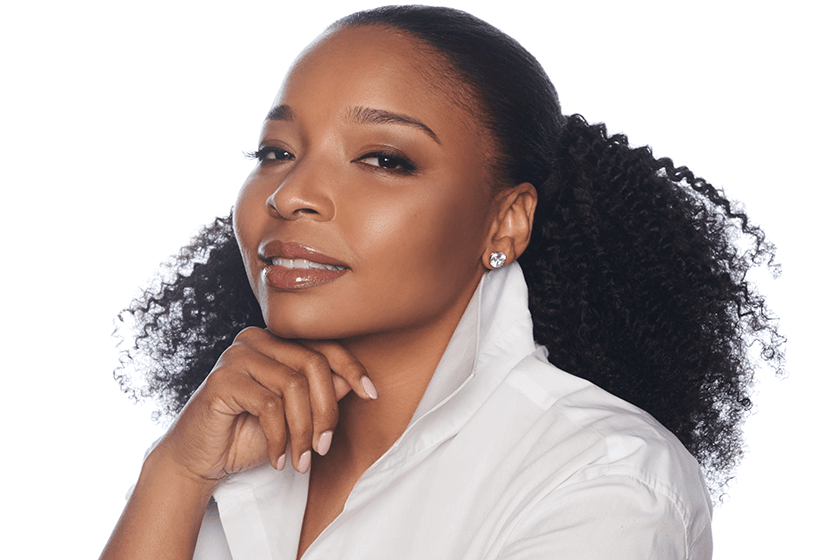 Dr. Madeliene Elaine Gainers is a board-certified, award-winning dermatologist who specializes in hair restoration and cosmetic dermatology. Dr. Gainers opened her dermatology practice to help patients who experience hair loss problems. Focusing on innovative hair restoration treatments, Dr. Gainers knows hair loss can significantly impact a person's perception of themselves. With years of experience, training and research, and a compassionate approach, Dr. Gainers works with you to design a unique, personalized treatment plan. Dedicated to your needs, Dr. Gainers is also about ensuring you have the best experience. At Madeliene Elaine in Chevy Chase, MD, she strives to offer a spa-like atmosphere and services to all of her patients.
Dr. Gainers received her bachelor's degree in psychology with a minor in chemistry from Florida State University. Following her time in Florida, she pursued her medical degree at the University of Pittsburgh School of Medicine and completed a research fellowship with Harvard Skin Disease Research Center. Once finished with her medical degree, Dr. Gainers attended a dermatology residency at Washington University School of Medicine in St. Louis, MO. During her residency, Dr. Gainers received comprehensive training in dermatology to help patients with various needs. Dr. Gainers also pursued a surgical fellowship in hair restoration from Bosley, which helped her learn more about FUT and FUE hair transplant techniques.
Specialties and Expertise
Dr. Gainers is an expert at hair restoration procedures, like transplant surgery, hair prosthetics, laser hair therapy, hair loss medication, and PRP therapy for hair loss. She can also diagnose the underlying reason for your hair loss, which can help her personalize your treatment plan and address any hormone, immune, or scalp issues. At her personal practice in Chevy Chase, MD, she also helps patients enhance their skin with cosmetic and medical dermatology treatments, like BOTOX, dermal fillers, chemical peels, and acne treatments. In addition, she enjoys addressing common skin concerns such as hirsutism (excessive hair growth) and hyperpigmentation (dark spots).
Publications and Research
Dr. Gainers is a well-established researcher in the dermatology field. Throughout her time in school, she helped lead studies, served as a research fellow at Harvard Skin Disease Research Center, wrote and published articles for major medical journals, and completed presentations at conferences.
Dr. Gainers is proud to be a member of the following societies:
American Academy of Dermatology
International Society of Hair Restoration Surgeons
American Hair Loss Council
National Medical Association
Jacksonville Dermatology Society
Northeast Florida Medical Society
Reviews
"I had a wonderful appointment with Dr. Gainors. She was so pleasant, took so much time with me to explain a lot of options and information about hair lose and the difference in the different areas of lose. I am pleased with the route we are going to explore with my situation and so happy she took the time to consider other options with me so I could make an informed decision. Would highly recommend her and her staff for hair and cosmetic concern."
K.O.
Google
"Dr. Gainers and the staff are top notch. Starting with the receptionist was so friendly. Dr. Gainers has such a gentle touch. She took the time to explain all of the options for treatment. I didn't feel like just another number on their books."
J.P.
Google
"I have never been to a doctor's office like Dr. Gainers. From the time I entered her office until I left I felt comfortable, relaxed and I knew I was going to be taken care of. She was able to diagnose my problem and gave me the upmost care. She is a top notch A+++ physician. She is knowledgeable, very professional and made me feel at ease. She did not put me on a time clock. I felt like she dedicated a lot of concern and time to me as if I was her only patient. She answered all my questions and concerns. Did I mention how unique her office is. This is a must see! Thank you Dr. Gainers for helping me reach my medical goal."
Anonymous
Healthgrades
"Dr. Madeliene Elaine is extremely thorough and caring with her patients. Definitely the best dermatologist in the Baltimore/DC area!"
Anonymous
Healthgrades
"Dr. Madeliene Elaine provided me with first class care during my visit at her fabulous office. Her personalized approach and special attention to detail made me feel comfortable and secure. The atmosphere is spa-like and serene, the receptionist is polite, friendly, and warm yet discreet, and the medical assistant is well versed in the Spanish language, which eliminated the need to speak with an interpreter by phone. Dr. Madeliene Elaine allowed me to express my concerns without making me feel rushed, embarrassed, or silly. She created a tailored plan specifically for me, and began treatment immediately. This was no ordinary doctor's visit. From the moment I walked in, I knew that this experience would be different; and she did not disappoint. It has been a week since I began my treatment, and I am already seeing positive results and receiving compliments. For anyone searching for a dermatologist to address skin concerns or in need of hair restoration services, Dr. M.E. is the place!"
E.J.
Healthgrades
Related Posts